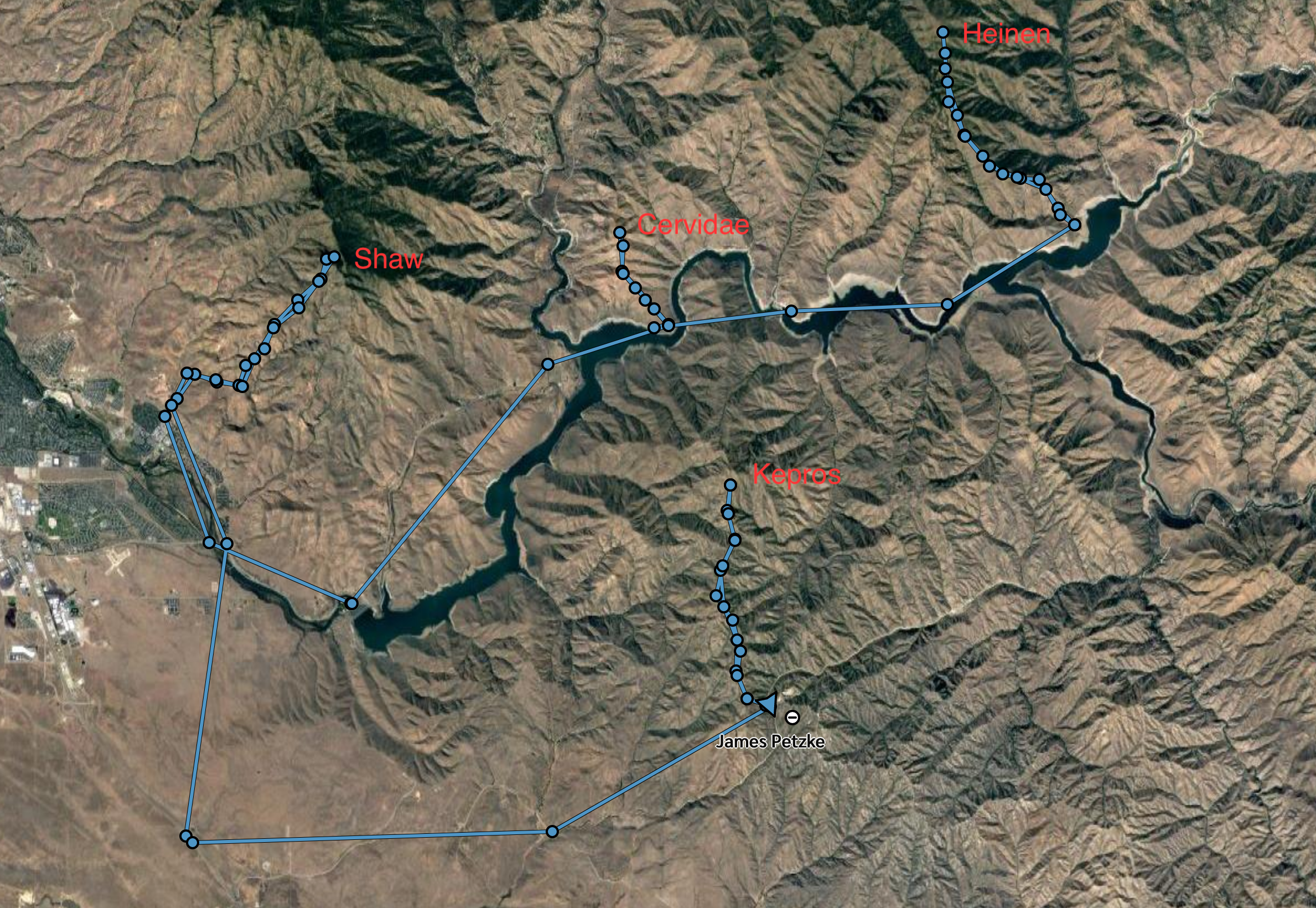 A few months ago, I happened to hear about the Grand Slam peaks around Boise. Four peaks that are all within an hour of Boise and burn off early enough for spring hiking, they are all popular destinations for local hikers. I had previously summited Shaw Mountain many times as a favorite training hike for hunting season, had been within a few hundred yards of Heinen's summit when in that area, but had never attempted Cervidae or Kepros. After quickly knocking them out this spring, an idea occurred to me: what if I did them all in a row?
Turns out it had been done before, with the record time being 16 hours and 25 minutes by one P.A. Campbell. As the COVID-19 lockdowns went into effect around the country and all the competitions I hoped to do this year got canceled, I began to train for an attempt to break that record. On June 15, I completed the feat in 14 hours, 2 minutes and 40 seconds.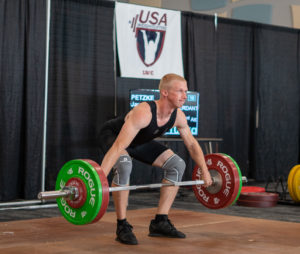 I'll start off by saying that I am not at all built for this type of ultramarathon endurance and had no previous background in it. I have spent the last four years primarily training for and competing in Crossfit and Olympic Weightlifting, which are the exact opposite of running long distances. The only exceptions are the month or two I spend every year hunting, and hiking the nine Idaho 12er peaks last year. Before this year I had never run more than 10km at once.
My training for this attempt was comprised of a few key components. The most obvious was practice on these four mountains. It might be boring hiking and running the same four spots over and over again, but there is no better way to train than by doing the exact event. The most brutal of the training workouts were Cervidae three times consecutively, Heinen and Cervidae combined, and Shaw and Kepros combined. I also started to regularly run on the road, with runs up to 12 miles, and continued to do Crossfit metcons several times per week. I did however back off on the weightlifting as I knew it wouldn't help with this particular goal.
Because this wasn't an official race, I had a lot of flexibility once I felt ready to give it a go. There aren't any official rules, so I wrote some based off Campbell's description of his record and common sense. Then there was the matter of choosing a day to go. I knew that it would go best if it was cool, a problem in June, but it couldn't be raining or wet (mud doesn't exactly provide great traction). I also had a few friends volunteer to pace me on a couple of the peaks. I tried to schedule it for two weeks with weather continuously upending plans before finally settling on the 15th less than two days out. Unfortunately it was a work day and I wouldn't have pacers, but I was at the point where I needed to get it done and wasn't going to get any other chances in the near future.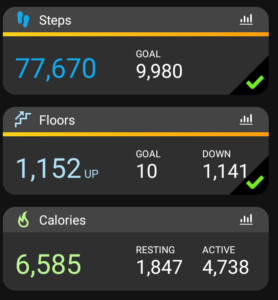 The full story by mountain is below, but in short it went fairly well with one unexpected setback involving some accidental somersaults and a light knee injury. I do believe I could do this faster if it wasn't for that knee problem as it forced me to walk a lot of the stuff I was planning on running, perhaps more than an hour faster. I won't complain though, it was a great day and fantastic mental and physical challenge. Between the four peaks the day totaled 35.66 miles and 11,493 vertical feet. This equated to 77,670 steps and 1,152 flights of stairs according to my watch (and almost 5,000 calories burned above my base metabolic rate).
Honestly, I doubt this record will stand for long. I know several people who are true backcountry ultra runners, and I know they would demolish what I did. There are some inherent limits on how fast it can be done (including the nearly two hours of driving time between trailheads), but I wouldn't be surprised to see someone beat my time by three hours, maybe even more. This challenge is relatively unknown and there is no official race, so the truly hardcore runners haven't come to tackle it yet. I hope they do, it'll give me motivation to train harder and attempt to break it again! If anyone out there gives this a shot, definitely let me know!
Heinen
Heinen is easily my favorite hike within easy driving distance of Boise. It's beautiful, offers views for dozens of mountainous miles in all directions, is very challenging (4,091 feet of gain, 9.55 miles), and the trail is closer to a game trail in a few places compared to the freeways of the other three Grand Slam peaks. I set out at 4:08 am, and hit the peak in just under 2 hours as the sun was starting to rise, and finished it in 3 hours and 12 minutes. I intentionally did this a bit slower than I had done it previously to control my heart rate and stay fresh for the rest of the day. I felt very strong overall coming off the mountain, with one key exception that would prove a major challenge for the rest of the day.
7 miles in, as I was running downhill, my foot caught on a rock and I went flying. It's unfortunate that there isn't any video of this particular fall and the resulting world class somersaults. I was able to get right up and start moving again, not realizing that I had done something funny to my knee. As soon as I stepped out of my truck at the Cervidae trailhead, my leg wobbled. It wasn't bad, and I could definitely keep moving, but every step for the rest of the day (particularly going downhill) would be painful on my right knee.
Cervidae
Cervidae is short and steep, at about 4.5 miles and 2000 vertical feet. On the way up I felt strong and the knee pain wasn't bad enough to slow me down. Normally when I do this peak I run downhill, not necessarily fast but without issue. But as soon as I started going down my knee stopped that, and it quickly turned into a walk or quick shuffle at best. I finished it in 1:29, half an hour slower than my fastest time on this mountain but still feeling good other than my knee slowing down the descent.
Shaw
I knew going in that Shaw (or Lucky Peak, as it's alternately called) would be the real test of this challenge. It's a long, boring, monotonous hike of 12 miles round trip with almost 3200 feet of gain and descent. It's a fantastic test of fitness, and I've seen a few much stronger runners than myself running the uphill at impressive clips. I normally walk up and run down, but today I was only able to run about a third of the downhill and was forced to walk the rest.
Everyone I've talked to about ultramarathons, and every story I've read, always says that there is no avoiding that at some point in every race you are going to be miserable. The last two miles of the climb up Shaw was where that kicked in for me on this one. At one point I couldn't look at the ground because it was swirling and making me dizzy and couldn't distinguish exactly what was hurting and what wasn't. Those two miles were a slow 22 and 23 minutes each, but once I turned around and started heading down I got back to feeling better, taking it slow mostly because of the knee pain.
Kepros
I normally run the majority of Kepros. It's relatively flat, with a rolling total elevation change of just over 2000 feet over 9.5 miles. The knee pain and general level of fatigue got to me though, and by the last descent I was hobbling like a man three times my age with sever arthritis. My head was clear and my heart rate stayed very low the entire time. In fact, I wish I could have pushed faster and made my lungs work a bit, but my legs simply wouldn't allow it. I've done this peak in under two hours before, but it took over three to finish it and wrap up the day.
Despite the slow and painful going, easily the best part of the day was on Kepros. Hitting the summit and having that incredible view of the other three Grand Slam peaks, after standing on all of them within the last 11 hours, was immensely satisfying.
---
¹Rules for the race:
Time starts when you take your hand off your vehicle at the first trailhead and ends when you touch it at the bottom of the last trailhead after summiting all four peaks. That means driving time is included in the total time.
Standard routes must be used for all four peaks. Mount Heinen (Irish Creek Standard Route); Cervidae Peak (Southeast Ridge Standard Route); Lucky Peak (Canyon Springs/Homestead Route staying on the road, no short cuts) and; Kepros Mountain (Standard Route using Bypasses #2 and #3).
All gear, food, water etc must be carried by the individual themselves, no pack mules. Pacers are allowed.
On foot the entire way other than driving between trailheads. There are some really impressive individuals who have biked between peaks without using a vehicle at all. This means they take different routes, and therefore that should be considered a separate event.